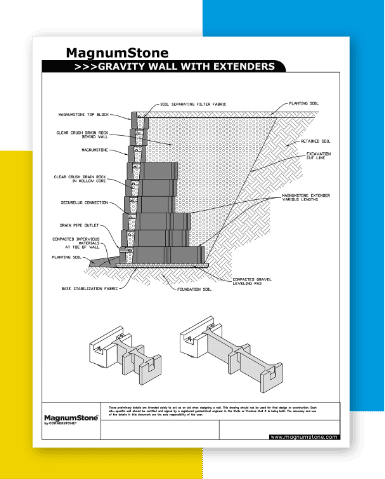 Solutions For Any Project
What makes MagnumStone stand out as a premiere big block retaining wall system is all in the details. The engineered design of our hollow core blocks enhances design capabilities with unparalleled creative freedom to deliver exceptional retaining wall strength and durability.
MagnumStone's outstanding versatility, exceptional drainage and multi-length gravity extender units offer unlimited wall solutions to fit any application. Our block specifications, design details, test data and technical resource documents offer a comfortable understanding of MagnumStone's design proficiency and high-strength performance.
Sustained Load
Steel Ladder
MagnumStone 3 Gage Steel Wire Ladder
WORLDWIDE NETWORK OF BIG BLOCK EXPERTS
In addition to offering refined best practices, MagnumStone also provides support with respect to sales, customer support and technical resources. Discover more about how MagnumStone supports its Engineers here: