Business
Opportunities
for Big Block
Retaining Wall
Production



Expanding your established company's product offerings, or new to the concrete industry? Make an immediate impact on operations and ROI by earning up to 50% profit margin manufacturing MagnumStone's engineered retaining wall systems.
We are business partners working toward a common goal of selling more retaining wall blocks in your market. With countless economic and environmental benefits, MagnumStone is ready to help you and your community build a stronger future.
Make up to 50% profit margins with MagnumStone.
Become a MagnumStone Producer
The market
for big block
retaining
walls
MagnumStone has become an industry-leading precast big block retaining wall renowned for its strength, durability and is coveted by Producers, engineers and contractors. This all-inclusive retaining wall system offers comprehensive insight and resources for Producers and their customers. Together with our partners, we can help communities build a stronger foundation for the future with MagnumStone retaining walls.
Big block retaining walls are now instrumental to the sharp rise in global residential and commercial developments. MagnumStone blocks are perfect for new developments, as nearly all construction design considerations now require stormwater management systems – an application our system excels at.
As a prominent solution for countless infrastructure projects, from bridges to country roads, precast big block retaining walls are cost-effective, reliable ways to maximize property potential. With less land to build on and develop, landowners, engineers and contractors are shifting focus and searching for solutions to optimize their valuable property space.
MagnumStone's proven and trusted engineered retaining walls are structurally secure with outstanding aesthetics that inherently fit any retaining wall design, application and landscape imaginable.
MagnumStone's
STRENGTHon
& INNOVATION
This innovative retaining wall system is proudly recognized as the world's first wet cast big block hollow core system. Using 40% less concrete than solid block systems, MagnumStone's advanced engineering offers fortified strength with minimal production costs.

MagnumStone blocks are designed for ultimate strength, the most critical and essential component of any retaining wall project or application. For those who value mass and versatility, the system's one-of-a-kind, multi-length gravity retaining wall extenders offer a remarkably powerful solution. By increasing wall depths in 2 ft. increments, MagnumStone continues to enhance the capabilities of precast big block retaining walls.

Another distinct advantage MagnumStone holds over competitors is its ruggedly handsome and naturally textured block facing. With industry-leading aesthetics and elite performance, it's no wonder engineers, contractors and landowners worldwide proudly select MagnumStone's retaining wall system.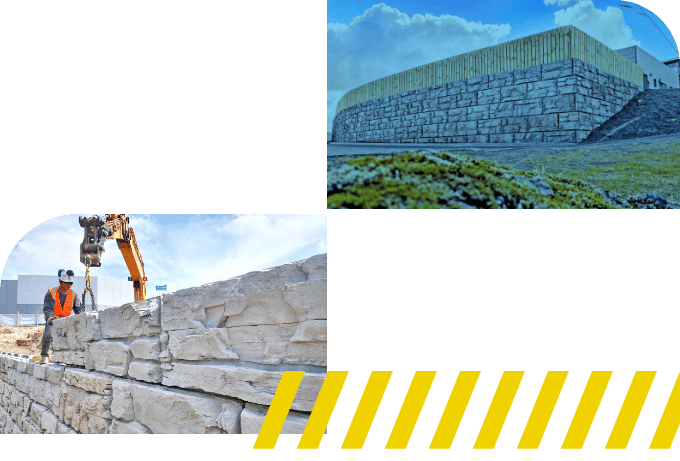 Best of both worlds - Aesthetics & Performance
MagnumStone's precast wet-cast retaining wall blocks perform exceptionally well in any weather and application, from freeze-thaw cycles to stormwater management systems and erosion control. The key to our system's growth and success is continuous product development and innovation. This ongoing commitment makes MagnumStone simple and efficient to produce, design and install, with distinguished versatility to overcome complex engineering challenges.
While performance is essential, we also revel in delivering terrific retaining wall block aesthetics to new markets worldwide. MagnumStone's unrivaled strength is complemented by a ruggedly handsome, textured look that landowners, engineers and contractors can be proud of. Like building our powerful retaining wall system, the reasons to manufacture MagnumStone continue to stack up.
Your
exclusively
licensed
MagnumStone
territory
MagnumStone's global network of Producers continues to grow and build precast powerhouses of all sizes. From the United Kingdom to the United States and Iceland to New Zealand, MagnumStone retaining walls have become the preferred choice of engineers, architects and contractors worldwide.

Producers each have an exclusively protected MagnumStone territory where no other company can produce our world-class retaining wall systems. Whether your company is targeting a particular market region, county, state, province or country, MagnumStone's extensive expertise and support can help.
We assist with strategic growth within your territory, however, Producers have ultimate control in terms of expanding their reach. With the fresh canvas of a protected region, Producers have endless opportunity and creative freedom to operate. With that freedom, you can build upon the licensed area's market and achieve your business goals in profitable, sustainable ways.
MagnumStone's
focus on
environmental
impacts
As engineers, contractors and landowners continue to seek out sustainable, eco-friendly building materials, MagnumStone's block designs provide an environmentally friendly option. The innovative hollow core units use 40% less concrete than solid concrete systems, in turn requiring less water consumption and raw materials.

The effects of these hollow core blocks carry significant impacts, stretching from the production facility to on-site installations. By substantially reducing concrete amounts – and CO2 emissions – throughout the production process, Producers cut the associated costs and help protect the environment.
By using 40% less concrete than solid concrete systems, MagnumStone is a complete, engineered retaining wall solution with reduced environmental impacts from start to completion.
Sustainable products are in high demand and MagnumStone's hollow core design offers copious eco-friendly benefits throughout the production and installation phases of each retaining wall project.
From a transportation and shipping standpoint, the hollow core blocks require 30% less truckloads, resulting in more eco-friendly deliveries and less CO2 emissions. On-site, MagnumStone blocks can be handled by smaller equipment, which again reduces the carbon footprint and save machinery expenses. The MagnumStone gravity extenders also limit excavation area necessary for projects, lessening land disturbance and preserving more natural landscapes.
MagnumStone's gravity extenders effectively minimize land distrubance, while plantable retaining wall designs incorporate sustainable green space and limit heat island effect. Our retaining wall blocks provide major environmental benefits and meaningful impacts that correspond with LEED-specified projects.
How to maximize inventory
At MagnumStone, we realize land value is at a premium – especially at production facilities that manufacture different products and systems – and we know space optimization is vital for Producers. The complicated logistics of a busy facility only underscore the importance of strategic inventory space management, which is why MagnumStone provides simple, realistic solutions.
MagnumStone's 8 sq. ft. (0.74 sq. m.) big blocks offer Producers a structured way to stack up to 64 sq. ft. (5.95 sq. m.) per column, by placing blocks back-to-back and stacking up to 4 high. This minimizes the big blocks' inventory footprint and makes the most of facility space without slowing daily production goals of MagnumStone or other products.
Proactively stocking extenders in a separate space also offers Producers far more flexibility when retaining wall projects require immediate design revisions or changes. Instead of scrambling to fulfill potential inventory shortages, customers can pick and go, which alleviates the stress and interruptions of cumbersome tasks such as change orders and manufacturing.
WORLDWIDE NETWORK OF BIG BLOCK EXPERTS
In addition to offering refined best practices, MagnumStone also provides support with respect to sales, customer support and technical resources. Discover more about how MagnumStone supports its Producers here: