Cantilever
retaining
walls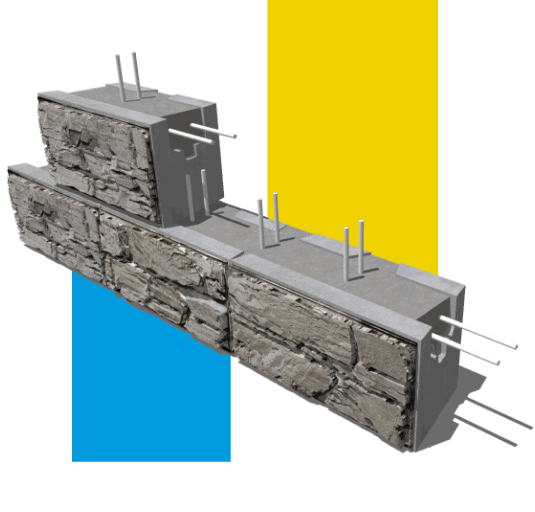 What is a Cantilever Retaining Wall?
Cantilever retaining walls use concrete footings, also known as base slabs, beneath large retaining wall blocks, which are reinforced with steel rebar and concrete filling. The concrete footing extends at the toe and heel of the retaining wall, with the heel stretching under the approved backfill material that the precast concrete blocks are retaining. Cantilever retaining wall designs enable the wall to withstand major lateral forces and earth pressures.
Steel rebar stems vertically from the concrete footings through the large hollow core retaining wall blocks, which are then filled with concrete to increase the structure's mass. This steel rebar can also be placed horizontally from the vertical rebar, running through the block's horizontal hollow core for further reinforcement, also filled with concrete. 
MagnumStone retaining walls can hold as much reinforced steel as necessary, with natural, textured facings that offer beautiful aesthetic features for Cantilever retaining walls.
When to Use Steel Reinforcement for Retaining Walls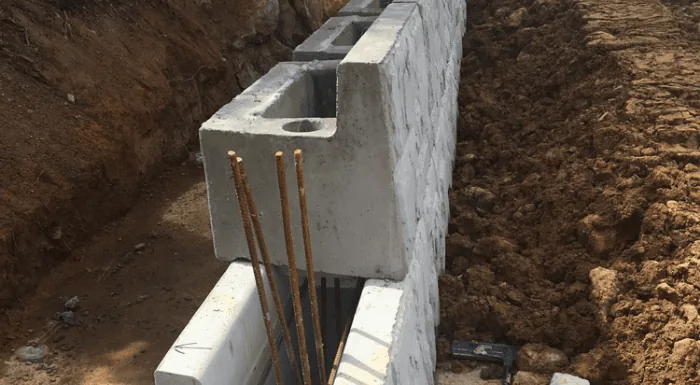 Cantilever retaining wall designs are typically selected and implemented when geogrid and gravity retaining walls are unable to meet the necessary structural criteria. This can be due to a variety of reasons, including right right-of-ways (ROWs) or sites with structures that have extremely close or limited excavation areas.
Common Applications for Geogrid Retaining Walls:
The Purpose of Cantilever Retaining Walls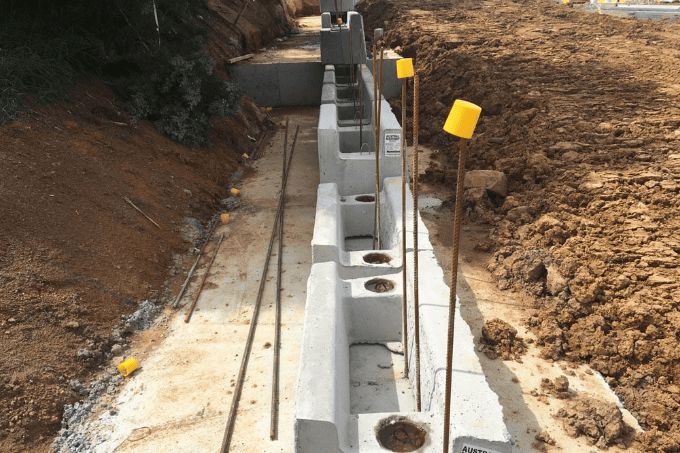 The reinforced strength of Cantilever retaining walls make them a valuable and reliable retaining wall application which is utilized around the world. This extra strength is a result of tying the base course, several courses – or even the whole retaining wall – together with rebar and concrete fill throughout the MagnumStone system's large vertical and horizontal hollow core blocks.
A cantilevered base, the concrete footing, holds the slightly battered precast retaining wall in place to resist overturning or sliding from pressures behind the wall. MagnumStone Cantilever retaining walls have been trusted all over the world by engineers to achieve maximum strength and durability for a wide range of projects and applications.
Cantilever Retaining Wall Design Considerations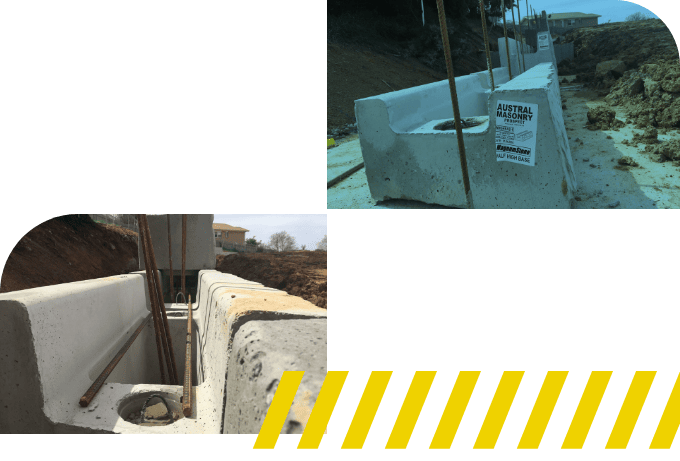 Advantages of Cantilever Retaining Walls
Start working with magnumstone
Load times may very depending on internet speed.
DOCUMENTS & DOWNLOADS FOR GRAVITY RETAINING WALLS
All related documents for this design option are listed here, or to view our entire downloads catalog click here
Cantilevered Retaining Wall Documents

Related Design Details
Every MagnumStone project has a story behind it, not just backfill and drainage channels. Our extensively library of detailed MagnumStone case studies feature impressive versatility and retaining wall successes.