Large Retaining Wall Blocks
INTERLOCKING CONCRETE BLOCK RETAINING WALL SYSTEM
Innovative Concrete Retaining Wall Solutions
MagnumStone is a wet-cast interlocking concrete retaining wall block system that was developed with both the engineer and contractor in mind. MagnumStone's hollow core design offers many benefits and superior drainage while the 4,000-PSI concrete provides high strength, low absorption, and great freeze-thaw durability. The lightweight 1,400 lbs (635 Kg) large concrete blocks mean installers are able to use smaller equipment and ship retaining blocks to the job site more cost-effectively. Learn more about all of the advantages that MagnumStone concrete wall blocks can offer you.
Advantages
It pays to use MagnumStone interlocking concrete blocks for many retaining wall applications.
The System
Our exclusive large concrete block retaining wall system has been designed from the ground up by industry professionals to provide a simple yet highly effective production and installation process.
Case Studies
View past concrete retaining wall projects for ideas & inspiration.
Why 40?
Build 40% larger walls with 40% less concrete in 40% less time.
Specifications
Get block wall installation guides, CAD models and design specs.
See MagnumStone In Action
Image Gallery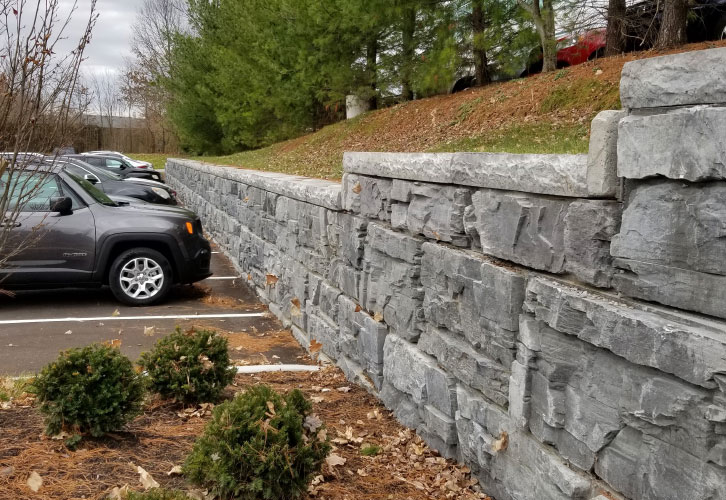 VIEW THE FULL PHOTO GALLERY
Using Retaining Walls
Retaining walls are typically an engineered structure that effectively holds the ground in the form of a wall, with varying degrees of setback or batter. These types of structures have been used for thousands of years including by the Mayans, Egyptians, and others, originally using layers of organic materials. Ancient examples include the Great Wall of China, the Sphinx, and Mayan temples. Modern applications typically will expand land usage or development square footage in areas where a slope prevents adequate usability. Other less common uses include water retention walls, erosion control, and decorative landscape features.
CONCRETE BLOCK RETAINING WALL DESIGNS
Using Concrete Blocks in Retaining Walls
Favored for its strength and durability, concrete has been used for centuries, including by the Romans, and is still widely used today. Concrete structures have been known to last for hundreds of years, and if engineered properly, concrete block walls can last a lifetime. More recently, interlocking concrete block retaining walls began rising in popularity as they are known to perform much better than alternative building materials such as wood, which will rot and is often carcinogenic if pressure treated, and natural rock, which is difficult to source, engineer, and build.
TYPES OF RETAINING WALL BLOCKS
Using MagnumStone for Concrete Block Walls
MagnumStone concrete retaining walls are a fully designed, engineered, tested and proven system. Our retaining blocks are wet cast, which provides stronger durability than dry-cast machine-made options, plus they're hollow-core, which allows for superior drainage, lighter weight, and lower shipping and raw material costs. These large concrete blocks are ideal for a wide variety of commercial, industrial and large-scale retaining wall applications. MagnumStone's comprehensive solution makes the permit process a breeze by providing all of the required testing data and specs for engineers, greatly minimizing potential delays.
RETAINING WALL CONSTRUCTION & INSTALLATION PROCESS
About MagnumStone
Our exclusive production system for large concrete block walls offers unparalleled innovation and a highly effective production and installation process. Featuring a hollow-core design that uses 40% less concrete and our innovative modular gravity extenders.
DESIGNED BY ENGINEERING EXPERTS

USES 40% LESS CONCRETE

FEATURES GRAVITY EXTENDERS
Do any depth infinitely in 2-foot increments
With the concrete extenders you can increase or decrease the wall depth in 2-foot (0.61 meter) increments, so you're not limited to a small, medium and large block. With other systems – once they get to their large block, they're done. They have to pour concrete in the field to extend the depth of it. With MagnumStone, we can go from 2 to 4 to 6 to 8 to 10 to 12 feet. We can do any depth infinitely in 2-foot (0.61 meter) increments. We can easily increase the depth in 2-foot increments, and conversely we can decrease the depth of the wall as you get higher up in the wall. Contractors love that kind of flexibility, given the "unknowns" that often occur when installation starts on a project. The fact that the system is all-inclusive is also a big plus.
The best precast retaining wall product on the market
The Team at MagnumStone is what sold our company on the product. Alain and Vern are extremely knowledgeable in understanding the needs of a precast producer. They have been so helpful, flexible, and accommodating right from the start. Their help from production right through to education and promotion to specifiers has been invaluable in the successful startup of MagnumStone. We are proud to be able to offer what we feel is the best precast retaining wall product on the market.
© 2022 | CornerStone Wall Solutions Inc.