The New Face of Retaining Walls
Did you know a properly installed retaining wall should last decades? With that in mind, it's easy to see why finding great looking retaining walls that stand the test of time are in such high demand these days. Industry experts worldwide have heard this time and time again – aesthetics are becoming a powerful motivator when choosing retaining wall systems. It also explains why experts praise MagnumStone as the most natural looking retaining wall blocks on the market.
Of course, we can't overstate the importance of a retaining wall's strength and durability enough. Those should unquestionably be the deciding factors when selecting, designing and installing any retaining wall project, big or small. However, it is noteworthy that appearance is becoming such a prominent feature. The main reasons retaining wall aesthetics are progressively becoming an influential component include:
Gaining a Natural, Timeless Retaining Wall Appearance
Combining High Performance Walls with Stunning Looks
Blending Natural Looking Retaining Walls into Any Landscape
Making Your Retaining Wall Look Better
Enhancing Property Value with Beautiful Retaining Walls
MagnumStone retaining walls perfectly exemplify this global shift toward striking aesthetics. Their facing's ruggedly natural looks generously complement its advanced design and functionality. So, let's do a deeper dive and analyze the major impacts of stunning retaining wall aesthetics!
Gain a Natural, Timeless Retaining Wall Appearance
For decades, concrete block facing aesthetics all had similar designs on every block, most imprinted with of an inauthentic stamped design. The stamped concrete facings are a classic, installed all throughout neighborhoods and infrastructure projects. Let's be honest, it was a hot trend! Nowadays, the embossed concrete facing's popularity has faded and a traditional natural stone aesthetic reigns supreme.
Flexibility of retaining wall features also play a vital role in terms of appearance. From flowing curves to tight corners and tall walls, products like MagnumStone excel at engineering versatile blocks with beautiful facings. Their timeless, defined aesthetic can enrich the look of any retaining wall project.
MagnumStone's collection of facings were inspired and shaped by the alpine landscape of the Canadian Rockies for impressive, deeply cut textures. The block face designs protrude 3" to 3.5" (7.62 cm to 8.89 cm) to blend and form spectacularly indistinct patterns. This gives MagnumStone retaining walls an element of randomness while maintaining plenty of character and an everlasting beauty.
Retaining Knowledge Newsletter
Don't miss out on MagnumStone's
monthly communications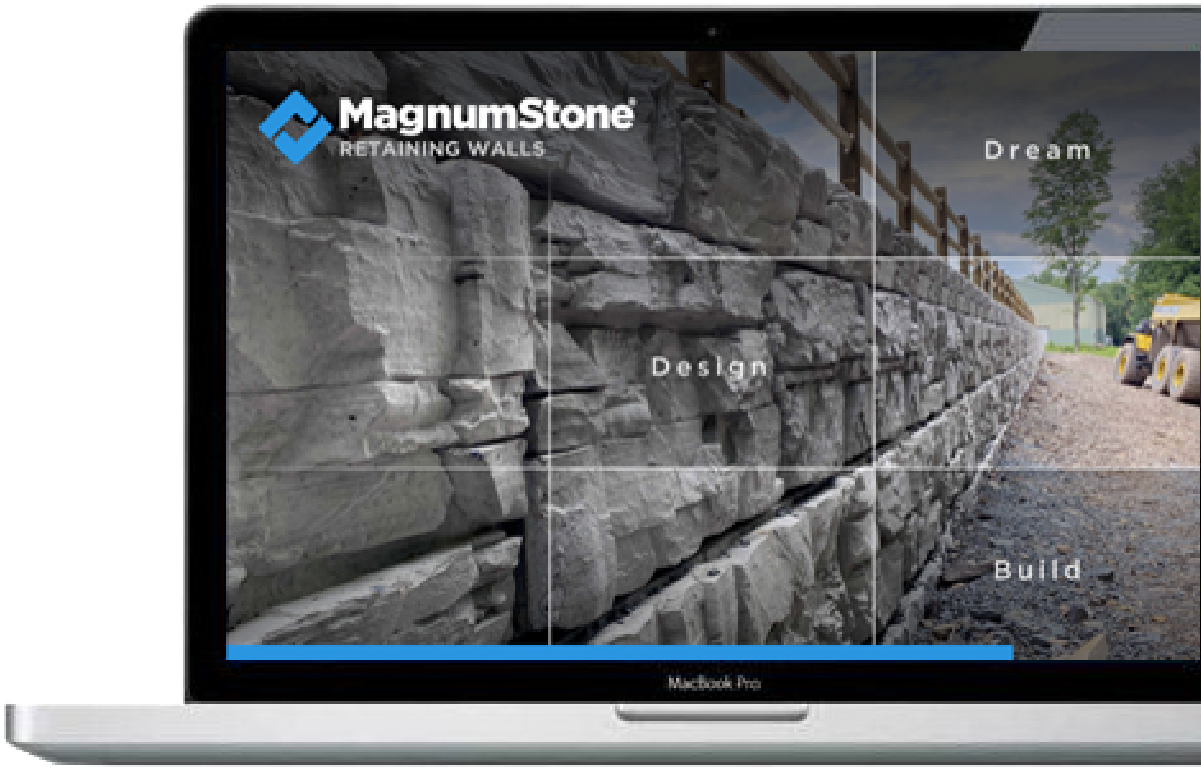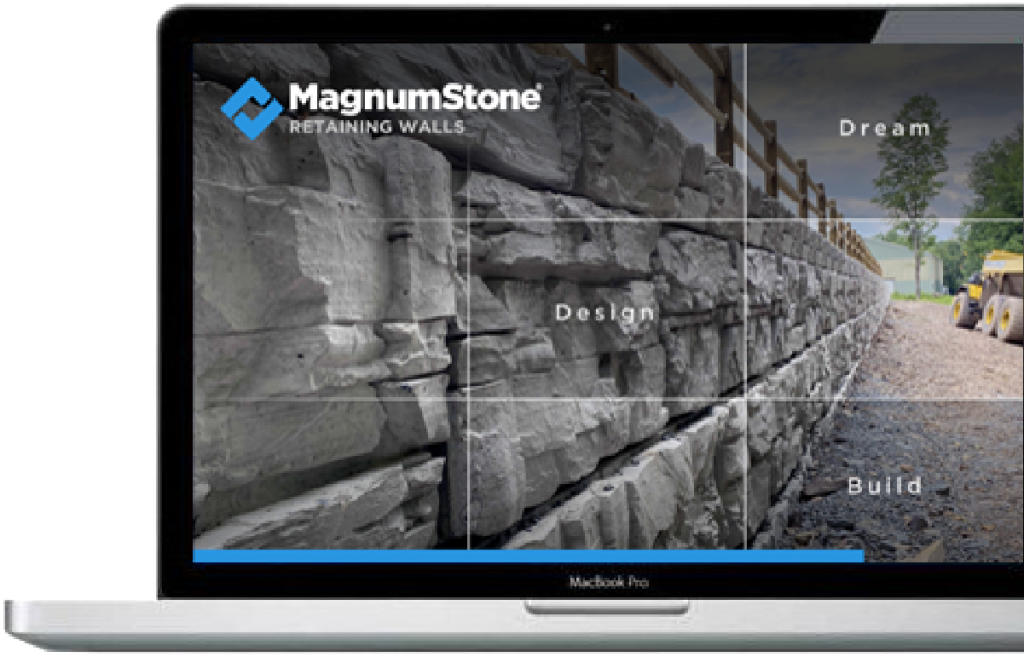 Combine High Performance & Stunning Block Facings
When it comes to retaining walls, landowners haven't always had the luxury of great looking facing selections that are available today. For decades, the functionality and performance of retaining walls were – rightfully – the main focus of each system. Adding a beautiful facing was largely deemed a "nice-to-have". But due to the sharp rise in global development, appearance has now become a key consideration that is proactively integrated into construction plans.
The manufacturing process of precast concrete offers exceptional weather-resistance with low-absorption for long-term, sustainable building materials. Any debate of choosing between a long-lasting retaining wall or a beautiful retaining wall has become a moot point, as they're now one in the same.
For MagnumStone's large concrete blocks, the facing's distinguished looks easily separate it from other engineered retaining wall systems. With its hollow core block design for superior drainage, MagnumStone offers powerful versatility and long-standing resiliency. The combination of strength and stunning aesthetics has been a hit worldwide and continues to gain popularity among the global community of engineers, contractors and landowners alike. Since pictures say a thousand words, here are some before and after photos of MagnumStone retaining wall transformations:
Natural Stone Retaining Wall Aesthetics for Any Landscape
Speaking of engineers, contractors and landowners, a common concern of theirs is that the retaining wall may not look natural. Specifically, they want to ensure it will blend into their surrounding landscape's scenery. Time has proven that achieving a natural stone or rocky aesthetic never goes out of style. Perhaps in stark contrast to gabion baskets or the steel buildings sprawling throughout modern city centers, the ambiance of natural looking retaining walls provides a comforting and peaceful atmosphere.
Furthermore, the recent trend of planter walls has helped revitalize urban environments with more green space. This is largely thanks to innovative retaining wall blocks designed with hollow cores which offer developers and city planners the ability to add environmentally friendly elements to any landscape.
That was the inspiration behind MagnumStone designing large hollow core concrete blocks with a handsomely rugged, craggy texture on the front facing. This offers homeowners, residential developers and city planners the opportunity to add environmentally friendly elements to any landscape. Whether you're subtly adding green space to a new development or complementing your backyard's natural beauty, MagnumStone's stunning blocks will enhance your outdoor space.
Make Your Retaining Wall Look Better
Looking for tips and tricks that can help enhance the aesthetics of your retaining walls? First, always beware of overlooking indications of potential wall failures before focusing on its appearance. Watch for signs of deterioration, whether that be a rotting wooden retaining wall or an overturning SRW (segmented retaining wall). For safety's sake, it may be beneficial to prioritize repairs or a replacement.
MagnumStone's large retaining wall blocks make it easy to improve the look and functionality of any property. Aesthetically, planting flowers, shrubs or trees into MagnumStone's hollow core blocks gives landowners more green space and makes a retaining wall less prominent. From an eco-friendly perspective, this also reduces heat island effect by minimizing concrete and asphalt surfaces.
Staining the blocks is another alternative that can be performed by professionals or DIYers to give the wall a fresh look. Fence posts can also be installed directly into the top units of MagnumStone retaining walls. Installing fence posts directly into the blocks – instead of behind – serves a dual-purpose to maximize space and increase privacy!
Enhance Property Value with Beautiful Retaining Walls
It's no secret that landowners are always searching for ways to improve their property value. One of the easiest ways to accomplish this is by upgrading outdoor areas. It's amazing how different a property looks after having its old, crumbling retaining walls replaced. Besides, if they were installed in the first place, there was a reason – failing retaining walls can be a major safety hazard.
Before building or replacing a retaining wall, we recommend consulting with a professional about the different types of retaining wall designs and their unique benefits. New residential developments for instance, can take advantage of installing gravity retaining walls closer to property lines with MagnumStone's gravity extender units. These extensions attach to the lower retaining wall courses and effectively replace the need for geogrid. That reduces excavation area and in turn, disturbs less of the property's natural landscape. Without geogrid behind the wall, pipes and services can be installed closer to the retaining wall to optimize space – a huge advantage for community development.
Another common residential and commercial retaining wall application is increasing usable land through cut and fill techniques. Retaining walls can help extend the property above a slope, or on the contrary, remove impractical slopes that intrude on the property. MagnumStone's large concrete blocks are excellent solutions for these space saving approaches to earth retention.
For further details, ask your local MagnumStone dealer how retaining walls can help make the most of your land! Talk to your nearest MagnumStone supplier today to learn more about our natural looking retaining wall blocks!
Photos: Masters Concrete Products, Cirtex, BM Valla, SLN Contracting, York Building Products, STI Precast, Oberfields & Mutual Materials.