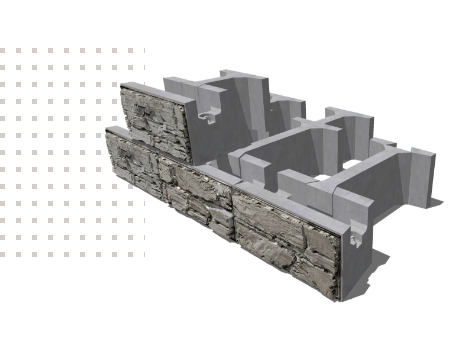 A major advantage of MagnumStone's retaining wall block design is its hollow core, which allows for more creative flexibility when planning and building retaining wall projects. Fences are traditionally placed a minimum of 3 ft. (0.91 m.) behind a retaining wall, which can severely limit valuable property for developments and residential yards. This photo gallery shows how engineers have successfully installed fence posts in MagnumStone retaining walls in order to optimize land within the property's respective boundaries.


Install Fence Posts Directly Into Retaining Wall Blocks
With MagnumStone's hollow cores, wooden and metal fence posts can be inserted directly into the blocks. This makes for an easy installation process atop the retaining wall and allows landowners to make the most of their property. By installing fence posts in retaining walls instead of behind them, residential properties can gain a modern look with extra room for a garden or swimming pool, while developments can potentially create more space for extra housing and parking units. By inserting the fence posts in retaining walls, landowners can add a new look, more privacy and increase the value of their residential or commercial property.
Ask you local MagnumStone experts  for more details today, always follow the approved retaining wall design by the project engineer.
Magnumstone Resources & Support
In addition to offering refined best practices, MagnumStone also provides support with respect to sales, customer support and technical resources. Discover more about how MagnumStone supports its Producers here: